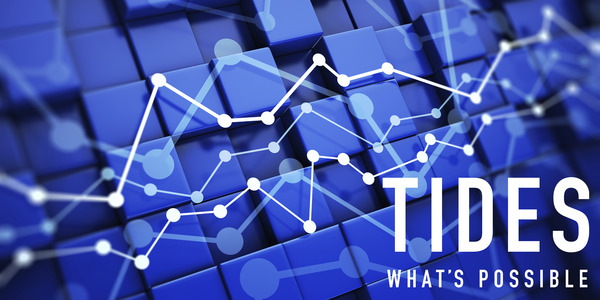 Currents with Kriss - The Promise of Big Data
An Election Season Reminder from The Advocacy Fund
Tides Spotlights
Events
Currents with Kriss: The Promise of Big Data

Currents with Kriss is a regular column by Tides CEO Kriss Deiglmeier.



Big Data in the Social Sector: Promises and Pitfalls

You've no doubt been hearing about the promises of big data for social good. In the past few years, there has been an explosion of ideas and applications that have helped us harness and understand data and put it to good use. But what if you can't afford big data analytics, or are just getting started? Tides CEO Kriss Deiglmeier looks at some inspiring examples and tells us how to avoid duplication and data for data's sake.

An Election Season Reminder from The Advocacy Fund

It may be hard to believe, but it's nearly 2016 and election season is just around the corner. As you know, 501(c)(3) public charities cannot engage in partisan political activity, but that doesn't mean your organization should be deterred from being a strong advocate for your issues in an election year. 501(c)(3)'s can criticize an incumbent legislator for a bad vote on its issues, conduct nonpartisan voter registration drives, and nonpartisan Get Out the Vote activity. Also, don't forget that advocating for or against ballot measures is lobbying, not partisan political activity. Please contact your Advisor for resources and advice on how to use these tools.

If activities such as endorsing candidates, making expenditures on behalf of a candidate, or preparing legislative scorecards and voter guides that favor or oppose candidates is of interest to advocate for your issue, a 501(c)(4) may be helpful. To find out more, contact Kathryn Snyder at The Advocacy Fund (the 501(c)(4) organization in the Tides family) at 415-561-6373 or ksnyder@tides.org.

Tides Spotlights

Highlighting Tides staff, projects and partners working for shared prosperity and social justice for all.


"It's like having a coach in the cloud." If you're using spreadsheets for fundraising, or if you're tired of your fund development system, it's time to look at SEEDing Financial Stability. The app has the functionality of a fund development CRM, and draws on SEED's special expertise for visioning and planning. Apply for a scholarship and you could get six months free!

Pizzigati Prize – Now Accepting Applications! The Antonio Pizzigati Prize for Software in the Public Interest honors software developers who create, for free public distribution, open source applications and tools that nonprofit and advocacy groups can put to good use. The Prize is a $10,000 cash grant to one individual who has created or led an effort to create an open source software product of significant value to the nonprofit sector and movements for social change. Nominations and applications for 2016 are now open. We are actively seeking diverse applicants – People of color, women, LGBTQ community members are encouraged to apply.


#100Women100Miles Pilgrimage reaches out to the Pope Tides project National Asian Pacific American Women's Forum (NAPAWF) co-created the We Belong Together Campaign with the National Domestic Workers Alliance to unite women for common sense immigration policies that treat women and children fairly. On September 15, 100 women began a 100 mile pilgrimage from the York County Detention Center in Pennsylvania to DC calling for better immigrant policies for women and families. Their arrival in DC coincided with President Obama's meeting with Pope Francis. The #100Women100miles pilgrimage received widespread coverage. Watch videos and read more about their powerful movement on Twitter.



Tides at the UN As part of last week's United Nations Sustainable Development Goals Summit, Tegan Mosugu (Program Manager of Community Initiatives & Global Partnerships at Tides) was selected to present his research on China-Africa relations at The United Nations Sustainable Development Solutions Network. The symposium was an opportunity for young and emerging scholars to network, interact and present research findings across disciplines. In his research, Tegan articulated on the need for a win-win situation when it comes to the mining sector in Africa. He also utilized the framework of The New Majority Opportunity Model as a means of creating sustainable impact, in order for communities to achieve their respective preferred futures. Contact Tegan to learn more about his research.

Events

2015 Platform Summit, Oct 2-4, Morehouse College, GA. The premiere tech conference aimed at connecting innovators from underrepresented communities in tech tackling big social issues. Now in its 3rd year, the Summit gathers leading thinkers from underrepresented communities to tackle big, challenging topics around innovation.

NewCoSF, October 6-7, San Francisco: NewCo turns the conference model inside out, inviting you to visit over 200 of the most inspiring companies in the Bay Area. Learn from entrepreneurs, sneak a peek at new products and innovations, and get an insider's look into cutting edge work environments. Tides is hosting visitors at 3 pm on October 7 – grab a spot with us now! Get 30% off your registration with the discount code HC30SF.



SOCAP15, October 6-9, San Francisco: Tides is a sponsor of SOCAP15, a convening of leading impact investors, world-class entrepreneurs, and innovative cross-sector practitioners. Alex Sloan, Tides Director of Strategic Partnerships, is moderating a panel on October 7 at 5 PM. With the Emmy Award-winning Showtime series Years of Living Dangerously as a backdrop, this conversation will focus on the use of film and television media to increase awareness of a pressing social issue and drive behavioral change through innovative storytelling. We will discuss examples of investors, donors, and content producers using media, coordinated social action campaigns, and celebrity engagement to further social impact, and the success of these efforts in driving measurable social change.

Bioneers Conference, October 16-18, San Rafael, CA: Join this historic gathering of visionary leaders and community activists who are creating the world we want. Get $25 off a 1-day pass with the discount code: TIDES1DAY‪

Chicken & Egg Pictures 10th Anniversary Celebration, October 22, New York: Chicken & Egg, a Tides client, is celebrating 10 years of supporting women non-fiction filmmakers though grant and technical assistance support. Their anniversary event will feature the launch of an interactive exhibit celebrating brave women storytellers.

Equity Summit, October 27-29, Los Angeles: The Convergence Partnership, a collaborative of national foundations and health care institutions working to foster healthier and more equitable environments for all children and families - will be hosting its fourth National Convergence Equity Forum. This national summit will ground inclusion, justice, and prosperity in the urgent issues of today and connect them to the creativity and bold vision of the equity movement. Advocates from across the nation -- including many from Convergence Partnership network -- will be part of interactive panels, tours, and in-depth, skills-building sessions that showcase how local leaders can impact policy change. Tides Foundation manages grants made through the Convergence Partnership Collective Action Fund. Learn more and register.